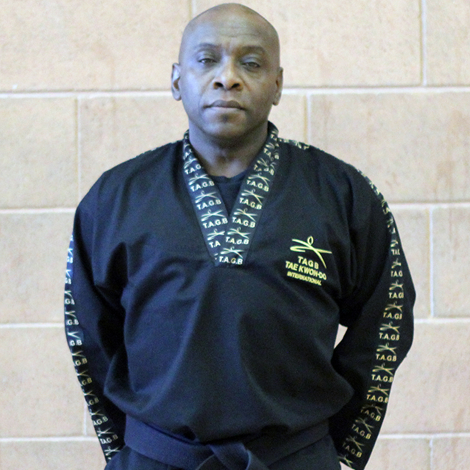 World Master Vince Farquharson (7th Degree Black Belt) has been part of the TAGB since its very first days. Over 45 years training and over 35 years teaching makes Vince one of the most respected senior instructors among all martial art practitioners.
Master Farquharson began training in 1979 under the instruction of the Chief Liaison Officer for the TAGB Grand Master Paul Donnelly (9th degree black belt) from this Vince opened the Dudley and Kidderminster TAGB clubs.
World Master Vince Farquharson obtained his 7th degree black belt status in 2017 being promoted for his outstanding contribution to Tae Kwon-Do at a national level. Vince is an instructor and referee at international level with over 35 years' experience in the practice and teaching of Tae Kwon-Do and over 30 years experience as an international referee.
Over the years Vince managed to enter and win multiple regional, national and international titles - with the 1980's being his most successful decade when competing. Since this time Vince has become an amazing coach and inspiration to his students, training many to receive high titles of their own - including many World Champions over the years.
Vince specialises in offering quality Tae Kwon-Do classes at affordable prices and has a dedicated team of highly qualified instructors who are here to assist you in your journey to black belt. Master Farquharson has been the instructor to all the black belt instructors and assistants who support with West Midlands Tae Kwon-Do.
World Master Farquharson is a keen supporter of charitable events and at the beginning of 2017 the West Midlands Tae Kwon-Do group chose 2 charities to raise money for due to close to the heart events. Vince is continually planning events to support Cancer Research and the Stroke Association.